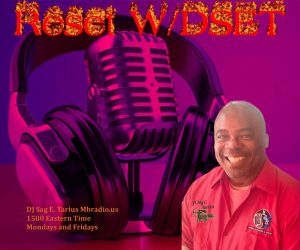 Reset W/DSET Ep 57
When I joined the Army in 1985, I went to Fort Jackson, Tank Hill, for BASIC TRAINING, and I will never forget the motto, "Victory Starts Here" by President Andrew Jackson.  Now digging a little deeper, it also starts with you. Always secure yourself first and only you can save yourself, that's my take on life.
We've served our country, now we need to take care of ourselves never surrendering to anything less.
I personally would like to thank each and every one of you for your SACRIFICE, and that's what it is a sacrifice, and appreciate your service, without you, America would not be the land of the free and the home of the brave.
I'm DJ Sag E. Tarius (First Sergeant Retired) and I would do it all over again.
National Suicide Prevention Lifeline
Hours: Available 24 hours. Languages: English, Spanish. 
800-273-8255
Podcast: Play in new window | Download
Subscribe: Pandora | iHeartRadio | JioSaavn | Podchaser | Podcast Index | TuneIn | RSS
Podcast (sagetarius-show): Play in new window | Download
Subscribe: iHeartRadio | TuneIn | RSS | More
More Posts for Show:
Reset W/ D-Set