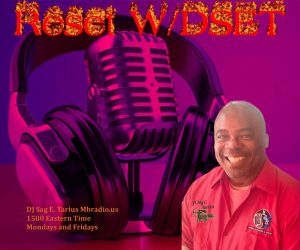 Reset With DSET (DJ Sag E. Tarius)
Ain't nothing like old music to bring back good memories from back in the day.  Thanks for listening and like always, I enjoy what I do and that is giving you my best in music.
As a veteran, one thing that was hard for me to learn was "The only thing harder than getting a NEW idea into the Military Mind, is to get an old one OUT!" B.H Liddell Hart
You gotta let go of that old stuff and old ways, I mean to keep the ones like Leadership, Discipline, Integrity, Honor and so old, but the rest of that stuff, and make room for new ideas.  Like Digital Underground says "Dowhatchalike"
Remember, Be Safe, Keep The Faith, and Don't Let em grind ya down.
We Survived another day, let's continue the pattern
I'm DJ Sag E. Tarius AKA DSET (djsagetarius.com)
National Suicide Prevention Lifeline
Hours: Available 24 hours. Languages: English, Spanish.
800-273-8255
Podcast: Play in new window | Download
Subscribe: Pandora | iHeartRadio | JioSaavn | Podchaser | Podcast Index | TuneIn | RSS
Podcast (sagetarius-show): Play in new window | Download
Subscribe: iHeartRadio | TuneIn | RSS | More
More Posts for Show:
Reset W/ D-Set