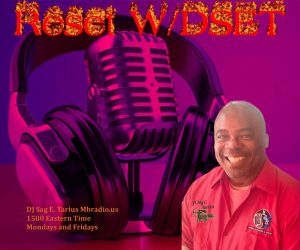 Reset W/DSET Ep 63
Man, it seems like yesterday I just started with Military Broadcast Radio and now my 63rd show.  I want to thank all my supporters and those supporting Military Broadcast Radio.
"None of us got to where we are alone. Whether the assistance we received was obvious or subtle, acknowledging someone's help is a big part of understanding the importance of saying thank you." – Harvey Mackay
Like always, "Be Safe, Keep The Faith, and Don't Let Em Grindya Down". DJ Sag E. Tarius
Help is available
Speak with someone today
---
National Suicide Prevention Lifeline
Hours: Available 24 hours. Languages: English, Spanish. 
800-273-8255
Podcast: Play in new window | Download
Subscribe: Pandora | iHeartRadio | JioSaavn | Podchaser | Podcast Index | TuneIn | RSS
Podcast (sagetarius-show): Play in new window | Download
Subscribe: iHeartRadio | TuneIn | RSS | More
More Posts for Show:
Reset W/ D-Set