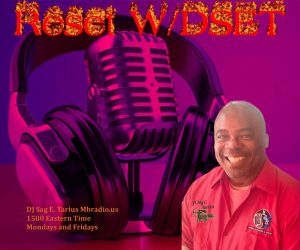 DJ Sag E. Tarius 
As a retired vet, I am still an American Soldier and I serve the people of the United States. I will always place the mission first, and my mission is to entertain you with nothing but the best music I can provide.
Be sure to tune in Mondays and Fridays at 1500 Eastern Standard Time on Mbradio.us, or just tell Alexa to play "Military Broadcast Radio".
You can find me on the web @djsagetarius.com
For a Veteran, life can be complicated, and each day we make it through is a victory.  "The will to conquer is the first condition of Victory" Marshal Ferdinand Foch.  Therefore we conquer the day and prepare to fight for the next day.
I got your six as long as you got mine and we gone celebrate our Victory together.
Be safe, Keep the Faith, and don't let em Grind you down.
National Suicide Prevention Lifeline
Hours: Available 24 hours. Languages: English, Spanish.
800-273-8255
Podcast: Play in new window | Download
Subscribe: Pandora | iHeartRadio | JioSaavn | Podchaser | Podcast Index | TuneIn | RSS
Podcast (sagetarius-show): Play in new window | Download
Subscribe: iHeartRadio | TuneIn | RSS | More
More Posts for Show:
Reset W/ D-Set