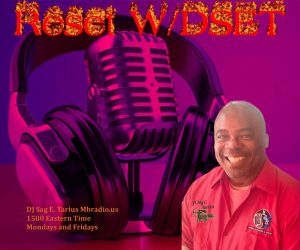 Reset W/DSET Ep 64
"Music has always been a matter of Energy to me, a question of Fuel. Sentimental people call it Inspiration, but what they really mean is Fuel. I have always needed Fuel. I am a serious consumer. On some nights I still believe that a car with the gas needle on empty can run about fifty more miles if you have the right music very loud on the radio."
― Hunter S. Thompson
I want to thank each and every one of you for listening and giving me a chance to provide the energy you need.  That is what I am here for and I will continue to keep refueling those in need.
I'm DJ Sag E. Tarius, "Be Safe, Keep The Faith, and Don't Let Em Grind Ya Down"
Help is available
Speak with someone today
---
National Suicide Prevention Lifeline
Hours: Available 24 hours. Languages: English, Spanish. 
800-273-8255
Podcast: Play in new window | Download
Subscribe: Pandora | iHeartRadio | JioSaavn | Podchaser | Podcast Index | TuneIn | RSS
Podcast (sagetarius-show): Play in new window | Download
Subscribe: iHeartRadio | TuneIn | RSS | More
More Posts for Show:
Reset W/ D-Set