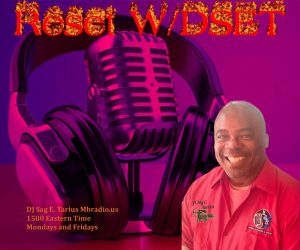 Reset W/DSET Ep 60
At Close Interval "Fall In", boy do I miss those days.  I remember standing in those ranks listening, then one day I was standing in the front of those ranks, do I ever miss those days.
The military has done great things for me, more good than bad days, but we all had those.  Being away from home, but meeting some awesome people to share your duty with, made it worthwhile.  And I remember that old school music pulled us through some hard times, either in the barracks, the club, or just a cookout with your crew, you had those songs.
That is what I am here for, I want to play that old music to remind you of those good times, and if this was a training meeting, I think I am a "T" at this task.  LOL
Be safe, keep the faith, and don't let em grind ya down.  I'm DJ Sag E. Tarius
National Suicide Prevention Lifeline
                                                Hours: Available 24 hours. Languages: English, Spanish.
800-273-8255
Podcast: Play in new window | Download
Subscribe: Pandora | iHeartRadio | JioSaavn | Podchaser | Podcast Index | TuneIn | RSS
Podcast (sagetarius-show): Play in new window | Download
Subscribe: iHeartRadio | TuneIn | RSS | More
More Posts for Show:
Reset W/ D-Set